Teens to Watch
Kasandra Catlett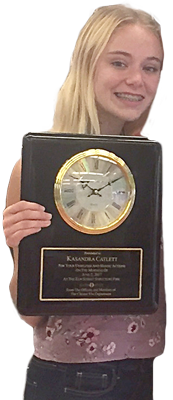 It was nearly one in the morning, and Kasandra was sitting passenger-seat in her boyfriend's truck when the two of them noticed flames beginning to engulf a home on Elm street in Chester, New York. They called 911 and sprung into action. They pounded on the door: "Wake up! Fire!" Jenn Peterman answered, scared and confused—and Kasandra helped Jenn get her two sons, Liam, 6, and Owen, 4, out of the house. "It was really upsetting," Kasandra said. "I was scared but I knew I had to help them. When the house (went up) the little boy was clinging to me. My dad's a firefighter, and he's really happy I did that." Meanwhile, Kasandra's boyfriend, Anthony, helped get Jenn's husband, Bill Peterman, out of the house. Within minutes, the entire home was consumed. "Without them driving by we might not have gotten out of the house, for sure," Bill Peterman said. "Ten more minutes would have made the difference."
Season Ciriello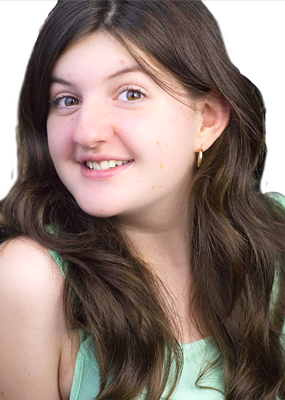 "Every person who volunteers…every hour that they give of their time matters, whether it's delivering a meal, cuddling a kitten or simply spending time with someone," says Season Ciriello. "We may not be able to change the world, but maybe we can change the world for one person." Season volunteers at the Warwick Humane Society multiple times a week, and is in the process of a new program, "Cuddle A Kitten," which would bring kittens from the humane society to senior residents at Mt. Alverno Center for a weekly group visit. This past February, Season partnered with DoSomething.org to get her community involved in creating and delivering Valentines to all of the seniors signed up for Warwick Meals on Wheels. For her birthday this year, she requested donations in lieu of presents so she could sponsor a Meals on Wheels senior, and is now raising funds to continue her sponsorship for 2018. She also spends time at the library reading and recording the local newspaper for the sight impaired. Season's list of volunteer work is endless, as is her determination.
Kellie Cusack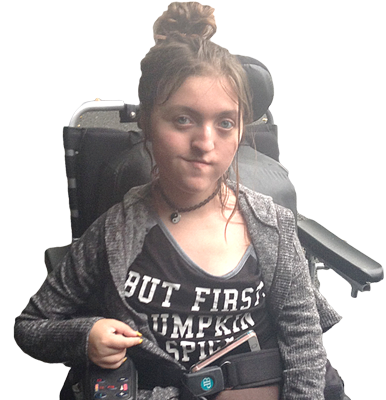 Kellie Cusack was born with a life threatening and often terminal illness, Spinal Muscular Atrophy. Throughout her life, she's endured countless hospitalizations due to the chronic respiratory distress SMA causes. Despite her personal hardships, Kellie dedicates all of her free time to helping others: from toy drives to benefit patients at Goryeb Children's Hospital, to raising thousands of dollars for Cure SMA through bake sales and lemonade stands. In 2014, Kellie was in a medically-induced coma for two months, followed by a month-long stay for rehabilitation. While in rehab, she raised over $65,000 for the hospital through an interview with Nash FM's holiday radiothon. Kellie has a knack for interviews and getting the word out—which is why she's studying journalism at Sussex Community College and working as the communications chair of the Northern New Jersey Cure SMA chapter. "As cheesy as it sounds, always chase your dreams. Never, ever give up hope…I never gave up hope and yes everyone has bad days, but it's okay," says Kelly. "Nothing worth fighting for is ever easy."
Simone Green
Simone Green is a busy girl. She's a full-time student, enrolled in her school's culinary program. She's a NAACP member and a babysitter, a member of Newburgh Performing Arts Academy and is on her church's Praise Dance team. She also works hard to end bullying in her school. "I know what its liked to be bullied and it makes me disappointed when people take out their problems on others," explains Simone. But her biggest passions are cooking and volunteering—and she's found a way to combine the two: she spends her holidays volunteering to cook for and feed those in need. "I think it is important to volunteer. Doing something out of the kindness of your heart to help others is rewarding," says Simone.
Zoe Heath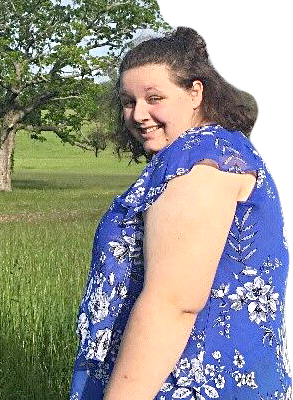 Zoe Heath is no stranger to adversity. She's a 17-year-old gay student at Vernon Township High School, and over the years, has been subjected to negative comments and peer pressure. In the face of this, Zoe responded by conjuring up her inner resilience, courage, pride, and motivation to ignite change—in a very public and powerful way. In 2015, Zoe saved her money to attend the United Nations Girl Up Leadership Summit in Washington, D.C., and then took the skills she learned to make her community a better place. She founded and is president of VTHS's Gay Straight Alliance, and organized a "Coming Out of the Closet" activity for National Coming Out Day on October 11th. She also started a petition to have local Board of Education meetings live streamed so those unable to attend could still have access to the discussions—and while waiting for formal live streaming to happen, she's been attending all of the meetings herself and streaming them off her cell phone. "Zoe is a born leader," commented one of her teachers. She plans to pursue a career in politics, focusing of social and economic justice issues, and LGBTQ rights. Her advice for fellow teens? "Be yourself. Stand by your passions and convictions, and don't let anyone tell you that you are too loud," says Zoe.
"If they say that, get louder."
Molly Hewitt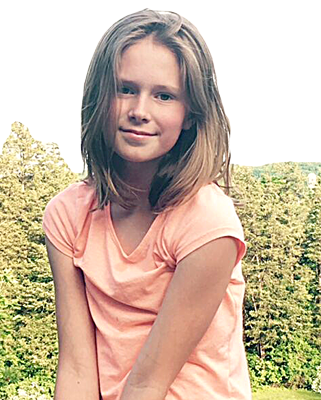 Molly Hewitt isn't your average 6th grader. She's a go-getter. She's a self-taught ukulele player and unicycle rider. And when disaster strikes, she finds a way to help. When Hurricanes Harvey and Irma hit, Molly teamed up with her friend Holiday for a bake sale. Together, they raised hundreds of dollars to support relief efforts, sending the money to Houston Food Bank, Texas Diaper Bank, and Miami Diaper Bank. Their bake sale generated awareness amongst her peers, and in the following weeks, more local kids got on board and started their own hurricane-relief efforts in the neighborhood. "This epidemic of generosity is the kind of thing we want to catch on," commented Molly's mom.
Mya Karinchak
Mya Karinchak's hard work has impacted the lives of countless kids and adults in Orange County, NY. She addressed the issue of smoking in local parks with town board members, noting how cigarette butts could be found anywhere children played. With help from her fellow Girl Scouts, she was able to convince their town to put up signs prohibiting smoking within fifty feet of park property—and fine anyone who got caught doing so. "Kids should go to the park for enjoyment and not for toxic air," explains Mya. "There is no reason for children to have to see cigarette butts when they are just trying to play with friends." Thanks to her efforts, this project Mya took on for her Silver Award became law in Orange County in 2017.
Madison Sabato
Madison has always put the happiness of others before her own. Back in preschool, she went home to her mother and explained that there was a child named Melannie who could not eat, speak, or hear in her class. She wanted to help Melannie and befriend her—so she did. From pre-school until now—8th grade—Madison has stuck by her side, from sitting with her to color, reading with her, and including her in all social events, to giving up her seat at the big school dance so Melanie could sit with the "cool girls." Madison ended up at the boys' table—undeterred and happy for her friend to be included. Madison has been a mentor, a friend, a guide, and "a guardian angel among Melannie and her peers," says Melannie's mother.
Kimberly Salotti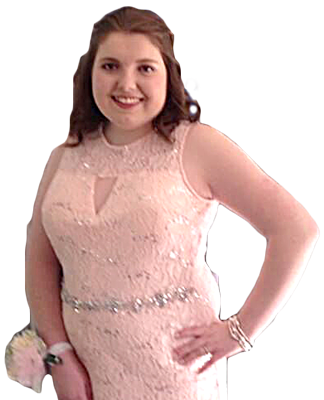 At age 12, Kimberly Salotti was diagnosed with brain cancer. The journey wasn't easy: a ten hour surgery, weeks of radiation, a year of chemo. After surgery, she lost most movement on her right side so she taught herself to become a lefty. She missed all of 7th grade and most of 8th. "She never said 'why did this happen to me," comments her mother. "She wakes up every day with a 'never give up' attitude." Now, Kimberly is 17, earning college credit with CTEC's rigorous early childhood education program, driving, and en route to attending college next year.
Audrey Whitfield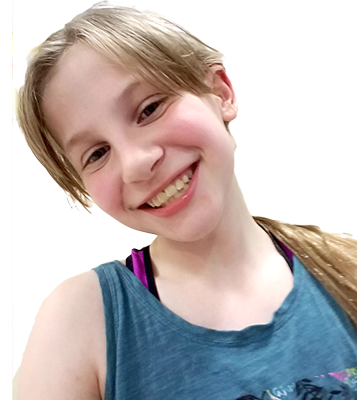 Seventh grader Audrey Whitfield is always busy: one moment she's practicing a new gymnastics stunt for cheerleading, and the next, she's writing poetry for her school's student publications, playing cello, or serving on student council. She's an honor roll student, but what sets Audrey apart from the rest of the crowd is her heart. Growing up alongside a younger brother with Down Syndrome gave her a tremendous sense of empathy. She's known for her ability to make the most left-out kids feel welcome, comfortable, and included, which is why she is trusted to be a Safe School Ambassador at Monroe-Woodbury Middle School. "As a Safe School Ambassador I help to make sure that kids aren't left out of games on the playground or that they don't sit by themselves at lunch," explains Audrey. "This is important to me because as my brother gets older he seems to be left out of more things than he did when he was younger."
Morgyn Witt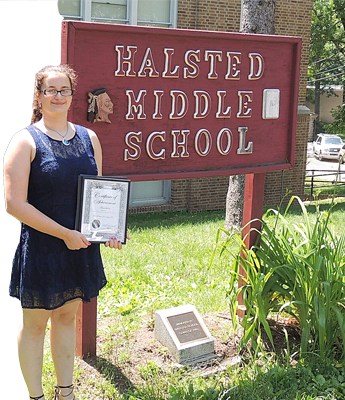 Morgyn Witt usually keeps her efforts and accomplishments to herself. She juggles great grades with hard work in the gym—she's there for countless hours every week, coaching gymnastics to younger mentors and perfecting her skills. "Oh, boy. I would need a small book to do justice to the amount of life lessons in this sport, both as an athlete and a coach," says Morgyn. "It has taught me perseverance, but it has also taught me when to take a step back and realize that overworking yourself in any capacity is no help, ever. It has taught me to stand up and speak, but also to sit down and listen."
Comments
MUST READ NEWS
VIDEOS
---